Address: 03041, Kyiv, str. Heroyiv Oborony st, 11, building number 10, room. 618.
Tel.: (044) 527 80 06
E-mail: [email protected]
Head of the Department:


Gutsalenko Lyubov Vasylivna

Doctor of Economic Sciences, Professor, Honored Economist of Ukraine
The department of Accounting and Taxation is the leading one in training of specialists on the specialty (field of study) "Accounting and Taxation" ("Accounting and Audit"). Periodization of the history of the department with specifying names(accounting and audit; accounting, analysis and audit) appears as chronological succession of stages. Associate Professor S.M. Rohachenko was its founder, organizer and the first head in 1959. Significant contribution to the formation of young professionals, improvement of training and methodological work, development of scientific and methodological work and development of science was done by other heads of the department, which are recognized lecturers and researchers: I.V. Malyshev, H.H. Kireitsev, L.K. Suk, L.S. Shatkovska, S.O. Oliinyk, V.M. Yaroshynskyi, T.H. Kaminska, Y.V. Кaliuha, L.V. Gutsalenko.
The teaching staff is represented by experienced professionals with DSc and PhD in Economic degrees and with significant experience in teaching at the university. The department has three professors, DSc; sixteen professors, PhD; Senior Lecturer, PhD; three senior lecturers.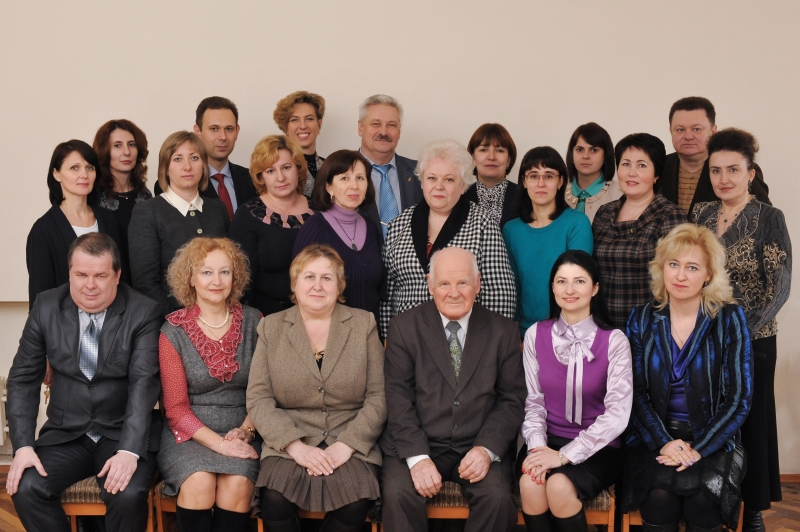 from left to right:
1st row – Professor Suk P.L.; Senior Lecturer Hermanchuk H.O.; Associate Professor Sliesar T.M.; Professor Suk L.K.; Associate Professor Kolesnikova O.M.; Associate Professor Meliankova L.V.;
2d row – Associate Professor Venheruk N.P.; Associate Professor Melnychenko I.V.; Associate Professor Haniailo O.M.; Associate Professor Tyvonchuk S.V.; Professor Kaliuha Ye.V.; Associate Professor Shevchuk K.V.; Associate Professor Boiarova O.A.; Associate Professor Derevyanko S.I.;
3rd row – Associate Professor Hurenko T.O.; Associate Professor Lytvynenko V.S.; Associate Professor Makoda S.L.; Associate Professor Yaroshynskyi V.M.; Associate Professor Kuzyk N.P.; Senior Lecturer Myskiv L.P.; Senior Lecturer Kryvorot O.H.
The department actively cooperate in the direction of the study and implementation of information systems in accounting with leading developers of the software "Enterprise", "Sail", "Medoc", "KIT.Audit" and others. Teaching staff of the department permanently increase their professional qualifications. In particular, in frames of cooperation with the Certified Learning Center «Prokom» on the basis of common educational laboratory «Competence Center » lecturers of the department of Accounting and Audit increased their qualifications regarding usage in educational process of the program « Accounting 8 for Ukraine». The level of knowledge of peculiarities of usage of the program «Accounting 8» for Ukraine with the right of teaching of accounting, analysis and audit computer course is confirmed by the certificate «Professional». In order to optimize practical activity, the teaching staff of the department improved their qualification in 2021 by means of the Program of certification and professional development M.E.Doc.IS with the usage in educational process of software for electronic document flow and financial reporting. Associate Professors O.M. Haniailo, O.V. Danilochkyna, I.V. Melnychenko received certified proof of skills of working with software "Sail". All this is the official evidence that lecturers effectively use in their work a wide range of the most common and modern accounting software, and training of professionals in accounting and taxation is done in accordance to modern innovative approaches.
Nowadays, the main directions of the activity of the department are:
- provision of fulfilment of the educational program of such levels of higher education as bachelor, masters and PhD on the specialty "Accounting and Taxation";
- scientific and innovative activity;
- international activity;
- organizational and tutorial work.