Graduates of the field of study "Accounting and Audit" received tickets in life
June 23, 2018
On June 23, at the Faculty of Economics of the National University of Life and Environmental Sciences of Ukraine a ceremonial giving of Diplomas to 210 graduates-Bachelors took place. 96 graduates of the field of study "Accounting and Audit received Diplomas.
Dean of the Faculty Anatoliy Dibrova congratulated graduates with getting a professional education and wished success at the future job, professional growth and new achievements. Honorary guests who were visited to the holiday joined to the greetings, namely: Doctor of Economics, Professor, Academician of the NAAS of Ukraine, Vice-President of the National Academy of Agrarian Sciences of Ukraine, Honored Worker of Science and Technology of Ukraine Valery Zhuk, Chief Accountant of "Limagreip Ukraina" company Vasyl Shevchuk and the first deputy head of Mironivka district state administration Kostyantyn Zhdanov.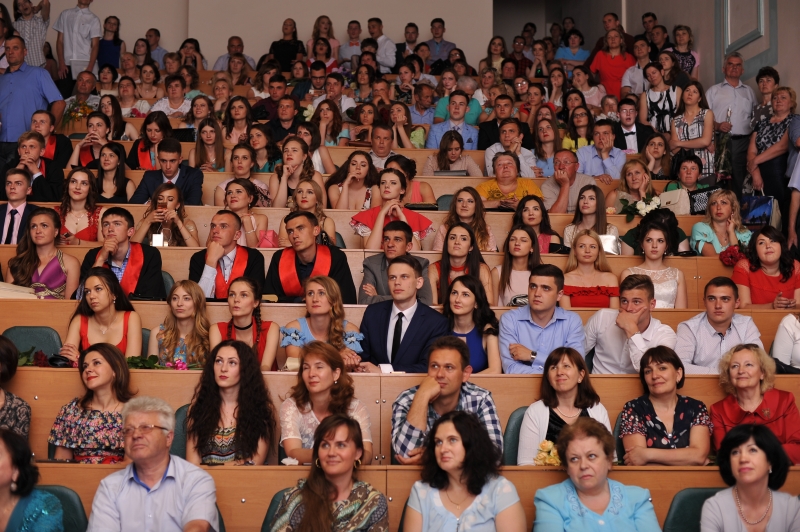 Heads of graduate Departments expressed their congratulations to graduates. They emphasized the importance of professionalism of newly-created specialists and self-development, wished them success in their lives and to carry worthy title of graduate of the Department of Accounting and Taxation of the Economic faculty of NULES of Ukraine and invited Bachelors to study in the Master`s program.
Graduation was very bright, a lot of songs and dance numbers were prepared.
In particular, Bachelors of Accounting and Audit Victoria Chervinska, Inna and Irina Khramets congratulated their colleagues with songs and thanked the teachers for gotten knowledge and competence.
We sincerely congratulate dear Bachelors and expect them as Masters
of the specialty "Accounting and Taxation" !!!

Kuzyk Nataliya,
Melyankova Lyudmyla,
Associate Professors of the Department of Accounting and Taxation