Department history
The department was founded by Professor A.K.Skorohodko in December 1922 as part of Kyiv Veterinary and Zootechnical Institute (KVZI).The newly created department was headed by A.K. Skorohodko and headed until 1939.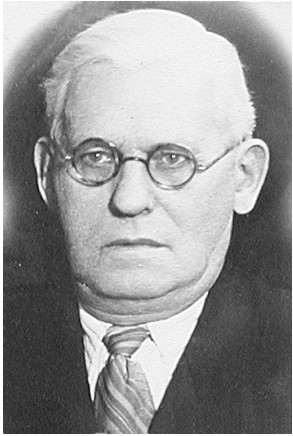 During 1939 1941 Zoohygiene department headed by Associate Professor M.K.Shevchenko.From 1941 to 1944 Department as part KZVI was evacuated to Sverdlovsk.During this period, the Department of Hygiene headed Associate Professor K.O.Levitsky, who took an active part in the development department.He is the author of the first laboratory work on animal hygiene, published in ukrainian.In 1944 Zoohygiene department was headed part-time professorB.Kh.Medvedev and Associate Professor M.P. Zhovanyk.
From July 1944 to February 1954 Head of Department was Professor A.K. Skorohodko.He started work on the problem of studying the processes of thermoregulation of farm animals.He published more than 75 scientific papers, including 9 textbooks hygiene of animals that have been translated into 15 foreign languages.He has written the first textbook "Hygiene of farm animals" (1922).Associate Professors K.S.Yermolayeva and O.L.Bedrata continued to develop the scientific direction of Professor A.K.Skorohodko, support and maintain the traditions of the department.During the ordering department of zoohygiene Professor M.S. Borsch started work on a new direction of research, which consisted in studying the processes of thermoregulation pigs in intensive industrial methods of implementation of industrial livestock production technologies.ProfessorO.G. Tymchenko has made a significant contribution to the study of processes of acclimatization beef cattle in different climatic zones of Ukraine.Associate Professor V.P. Masurenko issues involved in applied physiology and animal hygiene, studied the role of carbon dioxide and ammonia nitrogen in the regulation of metabolism and physiological functions of heterotrophic organisms.He co-authored published 6 books.
From 1996 to August 31, 2012 the department was headed Doctor of Biological Sciences, Corresponding Member of NAAS of Ukraine, Professor M.O.Zakharenko.In 1998, to address the group, Department of Animal Hygiene was wearing name A.K.Skorohodko, and in 2005 it was divided into two.The Department of Animal Hygiene named afterA.K.Skorohodko consisting ERI livestock and aquatic bioresources headed by Professor M.O.Zakharenko and Department of Veterinary Sanitation and Hygiene of Animal Products consisting of ERI veterinary medicine, quality and safety of animal products, by order of the rector №420 from 30.06.2005 - Doctor of Veterinary Sciences, Professor D.A.Zasyekin.In June 2009, the merger of the Department of processing technology livestock farming, this department was transferred to the ERI quality and standardization of food and food technology and renamed the Department of processing technology and circulation of animal products processing enterprises and sanitation, and later according order of rector NULES of Ukraine №523 from 28.05.2010 - the Department of sanitation and hygiene processing agricultural enterprises.
August31, 2012 under order of rector NULES of Ukraine № 730, Department of Animal Hygiene named after A.K.Skorohodko was merged with the Department of Sanitation and Hygiene processing agricultural enterprises, renamed the Department of Hygiene and Sanitation named afterA.K.Skorohodko and transferred to the ERI of Veterinary Medicine and the quality and safety of animal products.
Since 1996 Professor Zakharenko M.O.started work on a new direction in hygiene animals: learning content lower aliphatic amines in the air and feed for livestock and their impact on clinical status, metabolic status and resistant animals.In 2001 he was createda scientific laboratory of improvement and introduction of microorganisms-producers ofcarotenoids.In the same period he opened a new line of research on the synthesis of chelate compounds of trace elements for feeding farm animals.
The department provides education in the state language for students of veterinary medicine, technology, production and processing of livestock products, food technology and quality control of agricultural products, engineering of agrobiosystems, fisheries, teaching and training and retraining agricultural and environmental sectors.The staff of the department published 18 textbooks, 16 manuals, 6monographs, almost 1,500 scientific papers and 170 patents.Over the past 5 years published manuals "Hygiene and feeding dogs";"Sanitation requirements for the supply of agricultural enterprises";"Transportation of animals and products";"Sanitation aspects of beekeeping" et al., training workshop "Design and Construction of the production and processing of animal products" manuals for laboratory studies with animal hygiene, sanitation and hygiene in fishery biology animal productivity, workbooks for fulfillment laboratory studies on animal health, educational and health practices.
The department collaborates with academic institutions as the Institute of Veterinary Medicine NAAS of Ukraine, Institute of Surface Chemistry, Institute of Ecological Hygiene and Toxicology named byL.I.Vedmid and Kyiv National Universitynamed byTaras Shevchenko and leading enterprises of Ukraine and other countries towards the creation of modern technologies dietary supplements for feeding livestock.
Scientific achievements of the department are to create a new generation of sources of trace elements in animal form complex compounds with amino acids, the development of methods for producing new strains-producers of carotenoids.
During the all period of the department has defended three doctors and 20 PhD.
The department was headed:
Yermolayeva Claudia S. (29/10/1906 - 1986).Born in the Saratov region of Russia to family farmers.In 1932 graduated from the Veterinary Faculty of Veterinary Saratov Institute.
Assistant of department zoohygieneof Kiev Veterinary Institute took Claudia S. in 1949, having been a great experience for research.Because it happens so that after graduate school at the All-Union Institute of Experimental Veterinary Medicine (Moscow) under the direction of A.Prokhorov and PhD degree, she worked for about 13 years as a senior fellow for filtering viruses in the world-renowned scientist, our countryman MykhailoHamalia.
Since 1954 K.S.Yermolayeva elected as head of the department.
Claudia S. supporting best traditions established predecessors, especially indisputable humanist and a tireless worker with a generous Professor A.K.Skorohodko.It was distinguished scientific erudition, emotional restraint, intelligence.The department cultivated together with Olga L. Bedrata, Galina F. Odoshkina atmosphere of calm, balanced working relationship work.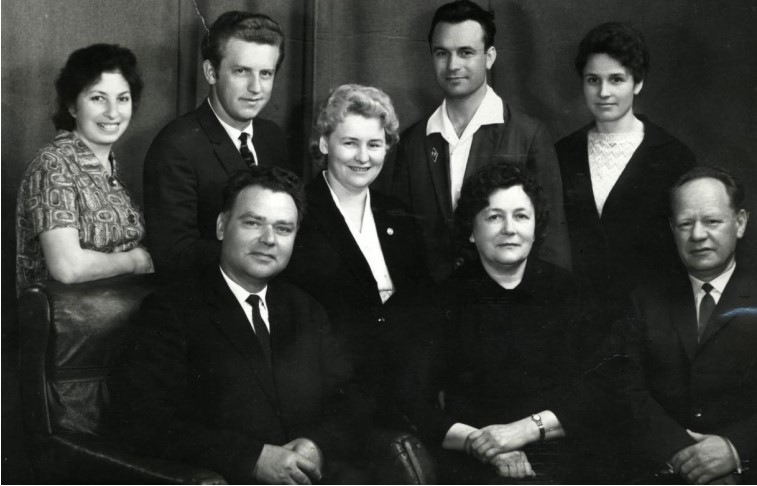 Associate Professor K.S.Yermolayeva with staff, graduate students continued to develop scientific direction defined by Professor A.K.Skorohodko.Significantly revived scientific work after founding in October 1960 when beef cattle station "Vorzel" (supervisor - Professor Svyechyn K.B.) zoohygiene laboratory.Research Station "Vorzel" for a long time was to become a center where solved complex scientific issues of dairy and beef cattle in Ukraine.
Based on the experimental station "Vorzel" led by Professor K.S.Yermolaeva along with research conducted by the department graduate L.V.Sovenko, I.B.Ignat'ev, P. Dzubenko.
Made of deepening questions thermoregulation and gas exchange in cattle in species and age aspects and conditions of prolonged fasting;evaluated the role and importance of ventilation systems in areas for cattle and in poultry houses.
Mykhailo S. Borsch (11.19.1918 - 11.13.1995) was born in the town Varvain Chernihiv region.After studying at the Kiev Veterinary Institute in 1956 and completed postgraduate studies at the Department zoohygiene led by Professor A.K. Skorohodko.Worked as assistant, associate professor.Since 1964 Head of the Department.In 1974 he defended his thesis for the degree of Doctor of Veterinary Sciences.Since 1976, Professor.
Under his supervisingweredefended two PhD theses: Vasyl P.Masurenkoand Oraz D. Ilhekbayev (Kazakhstan).During the war was in the military reserve units in Siberia.
M.S.Borsch elected secretary of the party committee KVI, UAA member of the Party Committee, secretary of the party organization, the Dean of the ZootechnicalFaculty(1970 - 1973).
Borsch M.S.continued scientific research in the tradition of his teacher.1956 he defended his thesis "Study rolls temperature and humidity mode at keeping pigs."
As head of the department M.S.Borsch in scientific work focuses on the development of teaching staff urgent problems of livestock due to the introduction of industrial methods of industrial livestock production technologies in industrial complexes studied thermogenesis and thermoregulation in piglets flukes depending on age, seasonal features and stimulation of hematopoiesis in them, as well as productive sows conditions of the indoor environment and measures for its improvement.
A notable landmark in the department is to develop a five-year labor veterinary and hygienic measures to improve fattening pigs in industrial complexes.Through the efforts of Professor M.S.Borsch the Department was established enough qualified staff in various fields of science professionals (V.P.Mazurenko V.V.Krasiy, L.V. Sovenko, V.B. Borysevych, N.T. Danylevska, E.M. Zabelo, V.Melihov, M.P. Teres, etc.), representing several departments of our university and military enterprises.
Within certain topics undertake comprehensive research (veterinary and hygienic, clinical-physiological, cytomorphological, ethological) and several series of experiments.Also developed original electronic device SK-1 to inhibit sexual arousal in pigs and sent two applications for inventions in Moscow.
Thanks to the employees of the department (M.S. Borsch, V.P.Mazurenko, V.V. Krasiy, L.V.Sovenko, V.M.Shevchuk, R.M. Puhovych) studied the issue of formation of microclimate features and ways to optimize farrowing sows in the shops, rearing piglets, fattening pigs on pig farms (Kalytyanskeand Kyivskein Kyiv region, Russia farm in Cherkasy region).In these enterprises investigated the influence of different factors on the duration of productive use of sows and quality of the offspring.
With the participation of Professor M.S.Borsch developed "veterinary and sanitary regulations for specialized pig farms" (approved of National Inspection of USSR State Agricultural in November 4, 1986) and others.
MasurenkoVasyl P. (19/10/1938 - 12/17/1995).In his role as head of the department (1991 - 1995).
Born in the village Veprykin Radomyshlsky district, Zhytomyr region.After the 1960 Faculty of Veterinary Ukrainian Agricultural Academy practitioners working in Lugansk studs.
In 1961 - 1965 teacher of Myrotskyi Veterinary College Kyiv region.From 1965 - post-graduate department zoohygiene (supervisor - Associate Professor Borsch M.S.).1968 defended his dissertation and worked as an assistant, from 1973 - as Associate Professor.
V.P.Mazurenko has organizational support for research conducted under Professor M.S.Borsch.Somewhat apart from this there are several years of intensive research conducted by Associate Professor V.Masurenko in conjunction with the Institute of Biochemistry, Academy of Sciences of USSR.The work was carried out within the approved Presidents of Sciences and the USSR Academy of Sciences in 1977 "Program of scientific studies on the role of carbon dioxide and ammonia nitrogen in the regulation of metabolism and physiological functions of heterotrophic organisms."
Associate Professor V.P.Masurenko successfully worked to develop textbooks for students and practitioners of veterinary medicine.He co-authored with ProfessorM.S.Borsch and Associate ProfessorV.V.Krasiy written: "Handbook of health of farm animals" (1991);with ProfessorV.A.Bortnichuk and others- "Zoohygiene with the basics of veterinary medicine" (1980);which was reprinted twice in 1986 and 1994; withProfessorD.T.Vinnichuk "Livestock, Zoohygiene and Veterinary Sanitation," 1995;"Handbook veterinarian" in 1990, as well as educational and methodical literature.