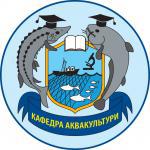 Address: 03041, Kyiv, General Rodimtsev str., 19, bilding 1, room. 83A.
Tel.: (044) 527 86 79
E-mail: [email protected]
Head of the Department:


Vovk Nadija

Professor,D. Sc
Department of fish farming was established in 1996 at the Zootechnical Institute of National Agrarian University and the Institute of Fisheries of the Ukrainian Academy of Agrarian Sciences. Director of the Institute of Fisheries, PhD of Economics, Honored Worker of Ukraine M. Hrynzhevsky headed it. An educational process on the Department was carried out by associate professors M. Hrynzhevsky, A. Andryushchenko, P. Baltadzhy, N. Vovk, S. Krazhan, A. Kucherenko, T. Litvinova, I. Pluzhenko, M. Khyzhnyak.
The Faculty of Aquatic Biological Resources was established in 2001 at the National Agrarian University. At the same time the Department of fish farming was renamed in to the Department of production technology and processing of aquaculture production, and in 2003 in to the Department of Aquaculture. The Department provides the theoretical foundations of the disciplines of aquaculture in freshwater and brackish-water reservoirs of Ukraine.
Theoretical and laboratory classes are held in the classrooms of the buildings of the university. Students of the Department have training and technology practices in the best enterprises and institutions of Ukrainian fishing industry. They are familiar with the structure and arrangement of enterprises and with processes in aquaculture. Teachers of Department are used in the training process the latest achievements of foreign and domestic science and practice.
In 2003 the Department was headed by Candidate of Agricultural Science, S. Alymov. Since 2006 Candidate of Agricultural Sciences, Associate Professor V. Kovalenko was performed the duties of head it. In 2009-2011 the Department was headed by Doctor of Agricultural Sciences, Professor A. Trofimenko. In December 2011 the Department was headed by Doctor of Agricultural Sciences, Professor N. Wovk.
Todey the educational process on the Department is carried out by Professor N. Vovk, Academician of NAAS Ukraine I. Grytsyniak, Associate Professors A. Andryushchenko, V. Kovalenko, R. Kononenko, A. Ignatov, Senior lecturers O. Shkarupa, N. Svyrydenko, A. Bazaeva, assistant V. Shumova.
The main areas of the Department
1. Conducting training, organizational and educational work with students.
2. The scientific leadership of the students in the writing of the final work qualification for Bachelor and Master levels.
3. Research in aquaculture.
4. Creation of modern facilities to support the learning process and research.
5. Writing educational materials of disciplines.
6. Conducting international activities. Signed cooperation agreements with Astrakhan State Technical University (Russia), National Lyceum named often Louis Pasteur (France) and International Organization of scientific and educational institutions in Eastern Europe (NACEE).
7. Organization of student competitions and participate in them.
Teaching staff of the Department:
• Professor, Doctor of Sciences – 2
• Associate Professor, Candidate of Sciences (PhD) – 4
• Senior Lecturer - 3, 2 of them – PhD
• Assistant – 1
• Head of the Laboratory – 3
• Master of industrial training – 2
• Laboratory staff – 2