Scientific work
One of the main activities of the department of plant science work:
 training highly qualified scientific personnel, specialty 06.01.09 - crop production, through post-graduate and doctoral studies. According to research at the department for the last 5 years protected more than 18 master's theses and two doctoral dissertations.
 research according to international, national, sectoral research programs;
 involved in certification highly qualified scientific personnel (Special Council on their thesis, expert commissions, etc.);
 Preparation Masters by Masters programs NUBiP Ukraine;
 preparation and publication of scholarly monographs, publications in leading national and international journals;
 participate in the editorial boards of scientific publications;
 preparation, conducting and participating in scientific congresses, conferences, seminars, round tables;
 counseling and retraining specialists in agricultural production.
The key research areas:
development of national standards of Ukraine technologies growing field crops and harmonization of international ISO in crop production;
scientific rationale, development and implementation of adaptive crop production in order to realize maximum yield potential recognized varieties and hybrids. Research conducted with the main field crops that are grown in Ukraine: legumes (peas, broad beans, lentils, soybeans, chickpeas), under spring and winter crops (wheat, barley, oats, corn), sugar beet and sunflower crops, oilseeds (flax rapeseed, wild turnip) and others.;
fitosyrovyna - alternative energy sources renewable energy, biology, technology introduction and cultivation;
plant resistance in ontogeny to biotic and abiotic factors;
Nanotechnology in crop;
control the formation and accumulation promyslovotsinnyh components in crop production;
scientific justification and development of technologies for high-quality seed crops with high yield and sowing qualities of seeds; variability sowing qualities of seeds of field crops based on natural and anthropogenic factors, technologies of parent plants, conditions of collection, storage and germination;
test of winter grain crops "Comparison of the performance of new and promising varieties of winter wheat in Ukraine and Germany" in conjunction with scientists from the University of Applied Sciences (Anhalt, Germany);
reduce the impact of biofuels on food sector together with scientists of the Institute of Fuel and Renewable Energy (Poland) and the Lithuanian Agricultural University in the international scientific project «ERA-ARD».
Research projects commissioned by the Cabinet of Ministers of Ukraine:
1. "Justification of alternative plant material for biofuels." The objective is the identification and introduction of crops that will consistently receive high dry matter yield (10-20 t / ha) for use in biogas and oilseeds to produce high quality technical oil (900-1100 kg / ha) as a source for biodiesel production ( Head - Professor Kalensky SM).
2. "The theory of improving plant resistance in ontogeny to biotic and abiotic factors on the basis of nanoscale biogenic metals." Purpose is to develop ways to use rules and terms of use of nanoscale biogenic metals in the fertilization of crops for increasing plant resistance in ontogeny to biotic and abiotic factors (Head - Professor Kalensky SM).
The action themes:
1. "Improving the technology of high-quality seed crops" Deadline: 2009-2013 the State registration number 0109U008133 (Director - Associate Novytska NV)
2. "Improving the technology of sugar beet seedlings by implementing the method landing" Deadline: 2009-2013, state registration number 0109U008134 (Director - Associate UNIQUE AV)
3. "Development of technological methods to realize the potential productivity of leguminous crops in northern steppes of Ukraine", deadlines: for 2008-2012, state registration № 0108U004865 (Director - Associate Nidzelskyy VA)
Its main base for field research is "Pilot Field" in the OP NUBiP Ukraine "ADS", which is located in the village. Wheat, Kyiv region. Research conducted by scientists, undergraduate, graduate, masters and bachelors in stationary and temporary experiments chair on a total area of ​​21.2 hectares.
Stationary Research founded in 2005 as desyatypilnoyi rotation that includes legumes (peas, broad beans, lentils, soybeans, chickpeas), winter wheat, sugar beet, spring barley, spring wheat, oilseeds (flax, canola, wild turnip) oats, maize, sunflower.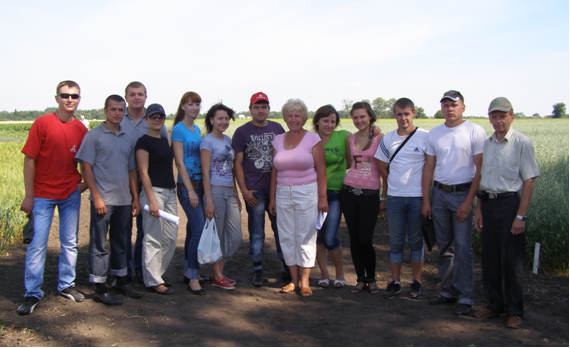 Acceptance tests Chair Masters crop in the OP NUBiP Ukraine "ADS"
Acceptance tests graduate students in the OP NUBiP Ukraine "ADS"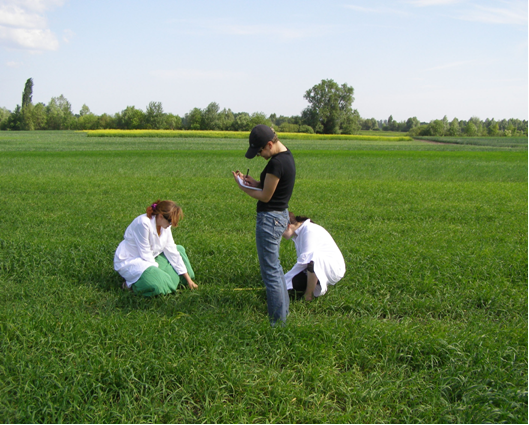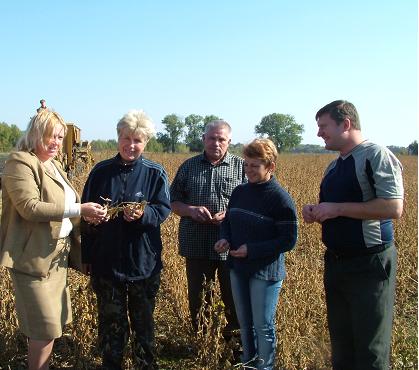 Graduate faculty on research areas