Address: 03041, Kyiv, str. General Rodimtseva 17, Bldg. 1, r. 48
Tel.: (044) 527-81-69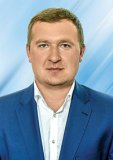 Head of the Department:
The department organized the Department of Horticulture at the time of the produce department in 1994 Horticulture Department was organized in Kiev Agricultural Institute in 1922, after its separation from the Kiev Polytechnic Institute. Head of the department was an outstanding organizer Horticulture Professor VL Symyrenko. Creating infrastructure department began after relocation Institute in Holosievo in 1929, while head of the department was Professor AA Piotkovskyy. In the prewar period Goloseyevsky educational sector were set in order the old monastery gardens, planted new collectible planting of fruit, berry and vegetable crops, fruit nursery created, organized greenhouse farming and processing base.
Restoration of the educational process and material resources after World War II began in spring 1944 as a head of the Department Horticulture held associate VM Markov. The department worked while known scientists - Professor AA Romanik, candidates Agricultural Sciences, Associate Professor VL Snizhko, MY, Gushchin, VA Turkin, Senior Lecturer MP Prikhodko. In 1955 the head was elected professor Polishchuk AD From 1963 to 1982 the department was headed by Professor H. Rings.
In 1984, the contest for the post of head of the Department of Agricultural Horticulture elected Dr. Science O. Barabash.