Address: 15, Heroyiv Oborony str., educational building 3, room 76, Kyiv, 03041, Ukraine
Tel.: (044) 527-88-12
E-mail: [email protected]
Head of Department:


Iryna Maidaniuk

Doctor of philosophical sciences, Academician of the Ukrainian Academy of Higher Education
General information
The Department of Culturology was established in May 2002 and includes teaches of traditional disciplines of cultural cycle and artistry teachers.

At different times the department was headed by Candidate of Philology, Associate Professor T. Gritsenko (2002-2009), Doctor of Philosophy O.Yu. Pavlova (2009-2011), PhD T.M Mysyura (2011-2012).
Since December 2012 the Department has been headed by I.Z. Maydaniuk Ph.D., Academician of the Ukrainian Academy of Higher Education.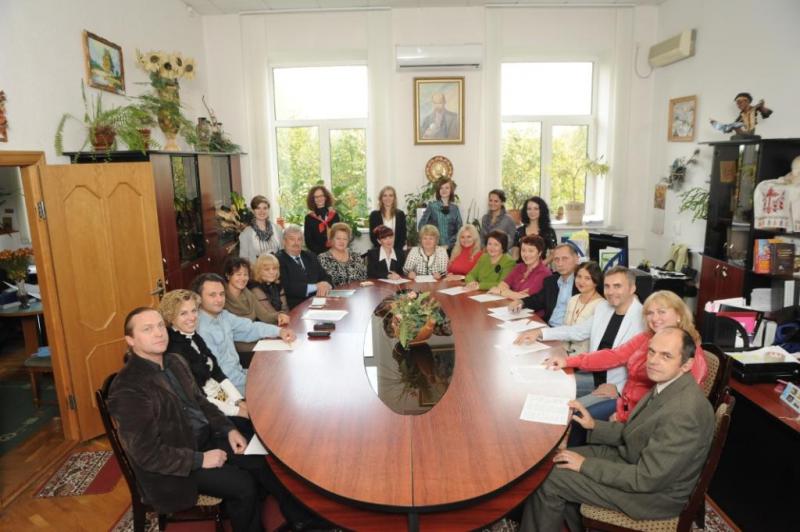 Theory and history of culture:
6 associate professors - T.F. Melnychuk , S.A. Syrovatskyi , V.V. Pantalijenko , N.M. Voznjuk , I.V. Hryshchenko , Ya.V. Puzyrenko
2 senior lecturers - T. M. Mysiura , I.G. Sydorenko
Artistry teachers :
1 professor – V.D. Kryshchenko ;
4 associate professors - S.A. Semenovskyi , R.A. Rudyi , N.M. Shelepnytska , S.L. Makoda
6 senior lecturers – V.O. Muzaliov , V.Y. Yakymchuk , O.V. Kalinichenko , N.M. Titenko, O.I. Saurina , L.I. Shkvarun
2 assistants – S.V. Dudko , N.V. Melikova

Educational activities
The Department specializes in two major courses: Culturology and Artistry.
The Department offers training in the following disciplines:
Culturology
Ukrainian and World Literature
Ethics and Aesthetics
The History of Ukrainian Culture
The Philosophy of Science
Judicial Rhetoric
The Basics of Teacher Training and Psychology
International protocol
Ornamental Floristy
Family Culture and Household Economy
Documentation Study
Folk Arts
Folk Songs Performance
Folk Dance
Academic Choral Singing
Ballet Dance
Variety Performance and Solo Singing
Pop-Group
Variety Youth Programs
Theatre Arts
Rhythm and Melodics of Modern Poem
Classical Music (Solo Singing)
Instrumental Performance and Academic Singing
Social and Public Functions of Music Art
Masterpieces of World Culture
Group Singing and Instrumental Performance
Folk Dance
Research and innovation activities
The theme of scientific and research activity is "The research into cultural integration of higher education of Ukraine into European system of universities of life sciences: monitoring of the situation and perspectives"
The department organizes:
-International conferences on gender issues
-Seminars for regional institutions of National University of Life and Environmental Sciences of Ukraine
-Student conferences
International events and links
The department of Culturology collaborates with:
• The Institute of Art Sciences, Folklore Studies and Ethnology named after M.T. Ryl'skyi of National Academy of Sciences of Ukraine (folklore records, publication of the Ukrainian folk song collections from Bila Tserkva, Chemerovetsky District, Khmelnytskyi Region);
• Taras Shevchenko Kyiv National University (scientific and practical conferences for teaching staff and students);
• National Pedagogical University (concerts-lectures);
• Educational einstitutions of North Dakota and Nebraska State (USA) (workshops and concerts-lectures popularizing Ukrainian folk art).