Address: Ukraine, 03041, Kyiv, 15 Heroiv Oborony Str., educational building 3, room 101.
Tel.: (044) 527-80-83
E-mail: [email protected]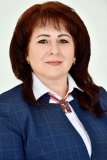 Dean:


Inna М. Savytska

Аssociate professor
The system of higher education at the Faculty of the Humanities and Pedagogy addresses the needs of an individual, the educational and labour market in the region, and includes training of professionals in diverse specialties of "Bachelor", "Specialist", and "Master" programs.
FACULTY ANTHEM,
QUESTIONNAIRE FOR ENTRANTS, PROMO: WATCH, DOWNLOAD
INVITATION FOR STUDY

In the structure of the Faculty there are 13 departments, a lot of research laboratories, computer classes, language laboratories, a sports complex etc. More detailed information about the structure of the Faculty can be found in the section "Departments".
Training at the Faculty is carried out in accordance with the current legislation of Ukraine and the applicable state regulations. The aim is to extend international cooperation and promote the entry of Ukraine's higher education into the European and world educational and scientific environment implement and acquire advanced national and international experience, up-to-date teaching methods and technologies, modern material and technical base. More...
The faculty provides the following educational programs










ELECTRONIC REGISTRATION FOR COURSES OF FOREIGN LANGUAGES
The faculty of Humanities provides students with an opportunity to do "double degree" program and internships in Poland.
Taking into account the interests and needs of Ukrainian students, National University of Life and Environmental Sciences of Ukraine (NULESU) entered into a cooperation agreement with the Pomeranian Academy in Słupsk (Poland) and invites students to participate in the international "double degree" training program. More...
NULESU is among the ten best universities in the country according to the rating "TOP-200 Ukraine"
The faculty of Humanities and Pedagogy in social networks