Address: Address: 03041, Kyiv, str. Heroyiv Oborony st, 11, building number 10
Tel.: (044) 527-86-60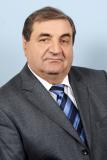 Head of the department:


Ilchuk Mykola Maksymovych

PhD, professor, correspondent member of National Academy of Agricultural Sciences of Ukraine
The department was founded in the structure of Kyiv Polytechnic Institute in 1898. Its first head was professor A. P. Ludogovsky (1898-1904) which was one of the founders of the science about the system of agricultural production.
The independent departments were separated from its structure later: economics of agriculture, statistics and accounting, analysis and management, economic cybernetics, scientific labor organization and economics of enterprises of agricultural service.
In January 2017 the department was renamed to the Entrepreneurship and Agribusiness Organization department.