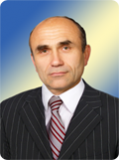 Dean:


Volodymyr I. Vasylyuk

Candidate of sciences, Honored Lecturer of NULES of Ukraine, excellence in education of Ukraine
Faculty of mechanization of agriculture dates back to 1933. Currently, faculty trains specialists of EQL "Bachelor" in the direction "Processes, machines and equipment of agroindustrial production" and EQL "specialist" in the specialty "Mechanization of agriculture" for full-time and part-time students.
Implemented speed training "specialist" - "Bachelor": The best graduates of the department of young specialists preparing of the Institute and other educational institutions of I-II accreditation levels continue learning program with shortened term.
Practical training takes place in modern laboratories: machine parts, mechanics of materials and structures, materials science and TCM, internal combustion engines, electrical, materials handling mechanisms, agricultural machinery, maintenance, standardization, certification and metrology that are equipped with modern machines, appliances, computers 'aided and presentation equipment. Practical training of students is carried out by conducting educational and production practices in teaching, research and production unit of the Institute and leading enterprises of Chernihiv region.
Students are active participants of olympiads and scientific conferences, visiting clubs, sports clubs, participating in various activities of the faculty and institute.
Students have the opportunity to study at the military department and get officer rank of Armed Forces of Ukraine.