Greece wildfires: Survivors of deadly blazes dig through wreckage
26 липня 2018 року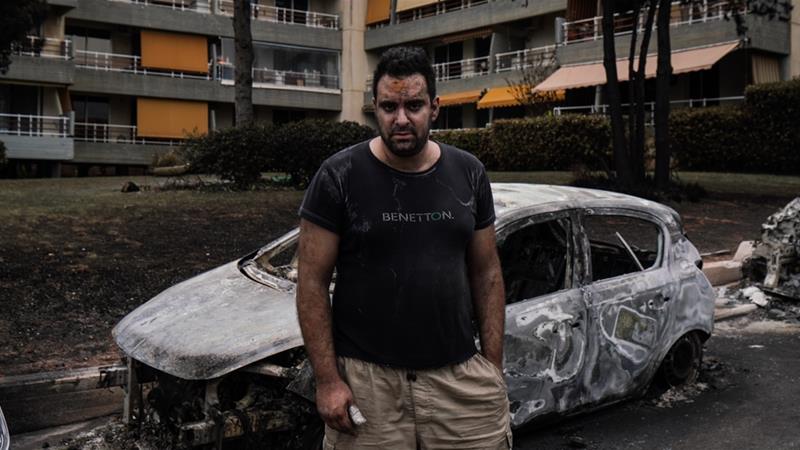 Andreas Panagiotaros was in his flat when he first heard loud booms outside early on Monday evening [Nick Paleologos/SOOC/Al Jazeera]
Mati, Greece - Late on Monday night, Giorgos Stabelos was sitting in his living room at home in the Greek coastal town of Rafina, watching the news when the presenter uttered a sentence that made his heart jump.
Since the early afternoon, news had trickled in about wildfires spreading throughout areas surrounding the Greek capital, Athens, including Mati, Rafina and Kineta.
But the powerful blaze had suddenly passed Marathonos Street and was heading towards the beachfront in Mati, a resort village some 29km east of Athens, where his son owns a taverna.
He rushed out of his home and hopped on his motorcycle. At first, he could not find a clear path due to dense plumes of smoke.
Stabelos tried several streets until he found an opening, weaving his bike around abandoned cars and dodging small pockets of fire until he reached the intersection perched above the restaurant.
He walked down the hill, startled as he saw a charred, lifeless body on the pavement. As he approached the shore, he saw more bodies strewn on the ground.
At least 79 people died as the wildfires crisscrossed through the resort areas, according to officials. Some 187 others, including 23 children, were injured and upwards of 700 were rescued.
"Next to that chair, there was a dead body," Stabelos says, pointing to a nearby seat. "Over there were more bodies."
Standing on the beach, he recalls: "There was a woman looking for her 91-year-old mother. I think she had drowned."
Although his son was unharmed and the taverna largely left intact, their neighbours were less fortunate. Next door are the charred remains of what was a large restaurant just a day earlier.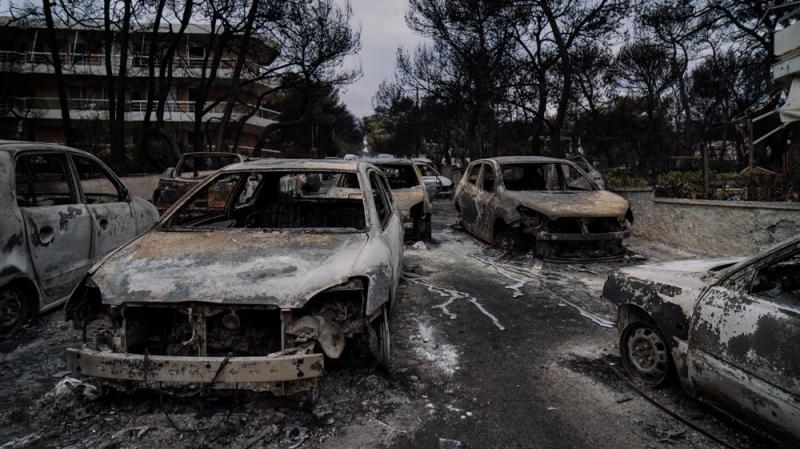 The streets of Mati were lined with burned-out cars after the fires swept through the village [Nick Paleologos/SOOC]
The streets of Mati are lined with burned out cars, charred motorcycles and scorched boats. Up and down the coiling residential roads are the remnants of homes, some of them still simmering and crackling.
Residents and volunteers sweep up piles of glass shards while city workers drive through and hand out water bottles. Firefighting planes fly low overhead, buzzing loudly.
Down the street from the taverna, police and rescue workers mull around an intersection. Behind them, at least 26 bodies, among them children, are identified and placed into body bags. Emergency crews found them lying close to each other near a steep cliff overlooking the sea.
"They had tried to find an escape route, but unfortunately these people and their kids didn't make it in time," Nikos Economopoulos, the head of Greece's Red Cross, told the local Skai TV.
"Instinctively, seeing the end nearing, they embraced."
Prime Minister Alexis Tsipras said the country is "going through an unspeakable tragedy", declaring three days of mourning.
The fires in Mati are the worst since 2007 when flames devastated the southern Peloponnese Peninsula, killing dozens.
Andreas Panagiotaros, a 38-year-old dentist and resident of Mati, drifts slowly across an ash-blanketed lawn and takes a seat on the pavement.
He was in his flat when he first heard loud booms outside early on Monday evening. Propane canisters and cars had erupted into flames outside as the blaze swept the area.
"When I first came outside, there were abandoned cars everywhere," he recounts, with soot smeared on his face and a small gash on his forehead. "The problem was that everyone was in [a state of] panic."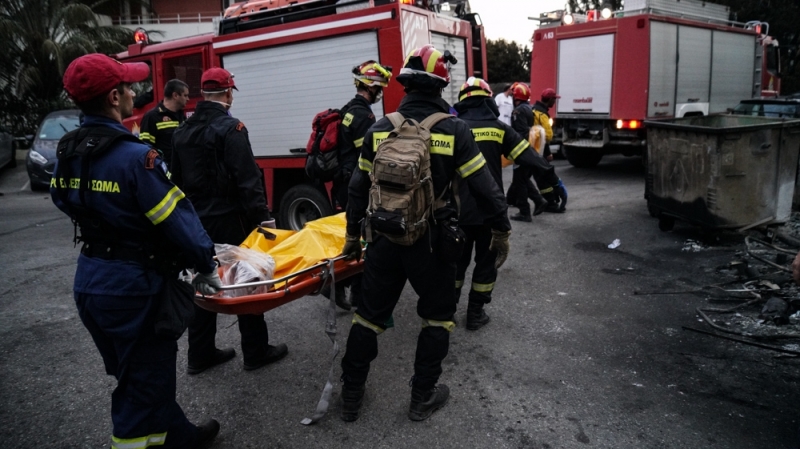 The death toll rose sharply on Tuesday after 26 bodies were found near the harbour town of Rafina [Nick Paleologos/SOOC/Al Jazeera]
Panagiotaros says he stayed in the area to help as rescuers evacuated people fleeing the catastrophe unfolding around them.
As he speaks, small streams of residual smoke rise and shift in the breeze. Behind him is what remains of a trailer home, turned into a pile of mangled steel.
"I personally saw two bodies here next to a motorbike," he says. "These are pictures I will never forget in my life … It's unbearable to realise that 20 minutes earlier this person was alive."
During more than two decades living in the area, wildfires had never reached his neighbourhood, Panagiotaros explains. "It reminds me of a warzone; the sky was grey and full of flames."
These are pictures I will never forget in my life … It's unbearable to realise that 20 minutes earlier this person was alive.
ANDREAS PANAGIOTAROS
Throughout the village, people scavenge through the debris of homes. Some stuff suitcases and bags full of items that survived the flames.
Back on the beachfront, Giorgos Stabelos splashed a handful of seawater on his face. "I've been up for more than 24 hours; I haven't slept at all," he says, rubbing his bloodshot eyes. "All night, we were helping people, doing anything we can."
Surveying the wreckage around him, he concludes: "It was hell on earth."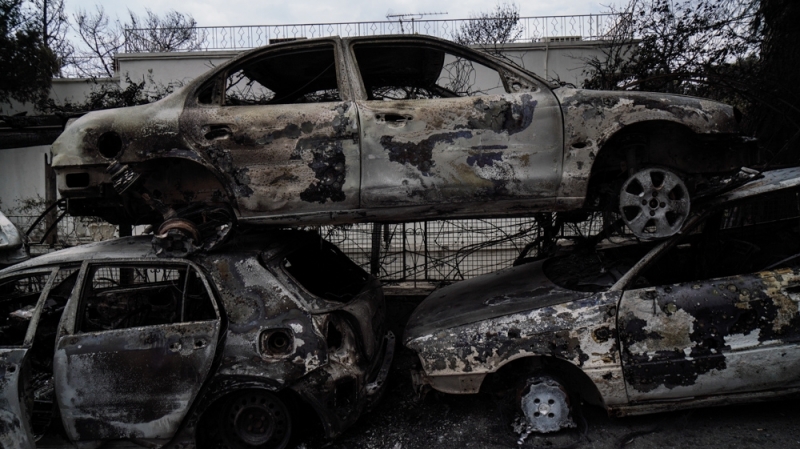 Rescue workers used forklifts to stack charred cars so emergency vehicles could get through the streets [Nick Paleologos/SOOC]
by Patrick Strickland
SOURCE: AL JAZEERA NEWS www.aljazeera.com/news/2018/07/greece-wildfires-survivors-deadly-blazes-dig-wreckage-180724121849761.html