Dutch Experience for Building Ukraine: Professor Sybe Schaap met with the students of the Faculty of Humanities and Pedagogy of NUBiP of Ukraine
February 21, 2020
On February 20, 2020, a well-known Dutch philosopher and politician, Sybe Schaap delivered a lecture to international students and graduate students of the Department of Philosophy of the Faculty of Humanities and Pedagogy. Sybe Schaap is a Dutch politician and philosopher, Professor at the Free University of Amsterdam and Charles University of Prague. He is the author of many philosophy books that have been translated into German, Russian and Ukrainian. In addition to his philosophical work, he is the president of the Union of Water Boards and the Committee on Genetic Modification, a senator and a member of the the VVD parliamentary party in the Upper House.
Professor Schaap sees great potential in Ukraine's agro-sphere. The lecturer presented the success story of the Netherlands, which began seventy years ago, during a difficult post-war period. At that time, the state came up with two recovery concepts: step-by-step reforms and comprehensive cooperation. The government initiated the reforms. The formula for the success of the Netherlands comprised the following algorithm: first, agricultural institutions were created, then applied science was developed, then the laws on industry reforms were implemented, and finally, foreign markets were opened and partnerships with other countries were strengthened.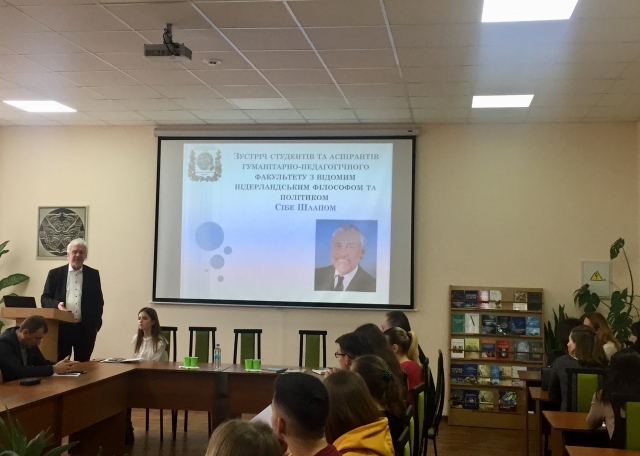 The Dutch experience has convinced the audience that the development of agricultural education is one of the most important factors in the cultural and economic development of the country. According to the lecturer, not only professional, but also philosophical competence of agricultural workers, which contributes to the destruction of outdated mental stereotypes and counteracts inertia, plays a huge role in the development of the society. Competition and cooperation, persistence and consistency are essential for the successful development of Ukraine's agriculture. Professor Schaap believes that we should begin with education and science, which must necessarily include both applied and fundamental components. Applied sciences will be supported by business entities, while fundamental sciences, of course, need public funding.