Uriadovyi Kurier: just about 200 thousand specialists got their education in one of the oldest university of Ukraine
September 8, 2018
National University of Life and Environmental Sciences of Ukraine turned 120 and started a new 121st academic year.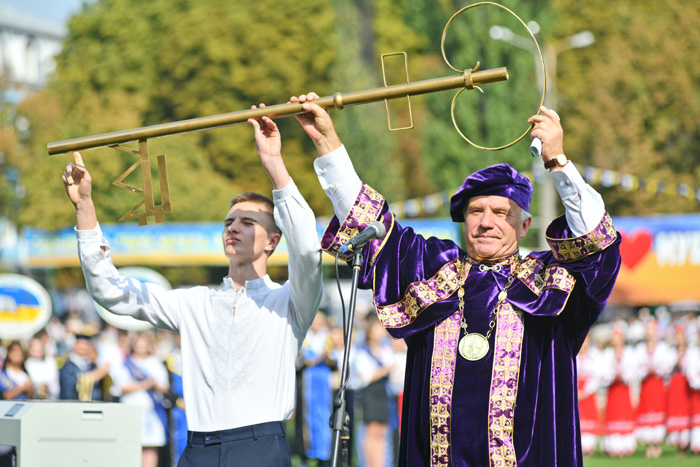 Rector Stanislav Nikolaienko is proud that our university is constantly improving and strengthening
— Over these years, our university, despite the changes of political forces, wars, and financial difficulties, trained just over 200,000 specialists, Stanislav Nikolianko says. This year more than 20,000 school leavers chose NUBiP to study at. Though only one in four succeeded to become our student.
Students manifested their keen interest in specialties for agriculture, though not long ago they were considered not to be promising and prestigious. Our freshmen's performance is high. Many of them have almost 200 points. Viacheslav Bohdanets' score is 200. A holder of a silver medal, he was also bright in All-Ukrainian Olympiad (his chemistry score is 170 p), in the contests of Small academy of sciences. This brilliant young guy is also a holder of President of Ukraine's award.
Viacheslav says that he had only one choice that is to become an agronomist. After he had done some studies for SASU's contest he understood that he wanted to become not only a practitioner, but a researcher as well. After obtaining his Master's degree, he is planning to study as a post-graduate student.
Currently, among 30,000 NUBiP students there are representatives from 28 countries who study at 32 Bachelor and 75 Master programs. Due to university faculty staff our students are among top five best ones showing their bright knowledge at Olympiads and contests.
Our university is strengthening our positions. This year we are the sixth in the TOP-200; we are in the list of QS ranking. Our university has more than 400 academic and training laboratories. And we are improving our facilities.
Iryna Bilous
for «Uriadovyi kurier
retrived from «Урядовий кур'єр»