Practical information about Ukraine and Kyiv
Ukraine is the largest country in Europe (after European part of Russia). Ukraine is a country with more than a thousand years of history and traditions that originate in antiquity.
Ukraine is…
A cup of herb tea with blueberry jam in Carpathians
A glass of white wine at the blue Black sea shore
Great History in the lights of modern Kyiv
Charming smell of chocolate, coffee and festivities in Lviv
Sound of the surf and good mood in always happy Odesa
Medieval spirit in Kamianets-Podilskyi
Healing springs of Transcarpathia
The atmosphere of the sacraments near the Pochaiv Lavra
Magic moments in the Tunnel of Love
Synevyr lake legends
87 types of Ukrainian liquor and hundreds kinds of Ukrainian beer
the most delicious Varenyky and Borsh EVER
Song which comes from soul
Dance which perfomes by heart
Smiling faces all aound
Motherland of Andriy Shevchenko, boxing brothers Klitchko and more 42 millions of cool guys
603,7 OUR SQUARE KILOMETERS
Crimea, which misses home, but finally will come back soon
Maydan which brought together the entire country
People whose faith will never fade
Interesting places

BUKOVEL SKI RESORT

Ski resort "Bukovel" is situated near the foot of the like-named mountain in the village of Polyanytsya, Yaremche district, at the height of 920 m. above sea level at the area of 450 hectares, in the distance of 35 km. from Yaremche and 100 km. from Ivano-Frankivsk. The highest peak of the resort is mt. Dovga, 1372 m.
At present Bukovel is the best ski resort in Ukraine, among of Yablunitsa and Vorokhta, Yaremche City Council Kosiv town, village Sheshory Tyudov Kosovo and the region; Verkhovyna village and v. Uelzen Verkhovyna district, p. Vyskov, Dolinsky district.
See more: >BUKOVEL<

LVIV

There are 50% of all architectural monuments of Ukraine in Lviv. That is why the centre of the city is considered to be historic and architect reservation. Variety and mixture of different styles of all epochs beginning from 13 century, find their reflection in grey stone buildings of Lviv. Gothic and baroque, renaissance and Roman style, rococo and Empire, modern eclectic and constructivism are combined in it architecture.

See more: >LVIV<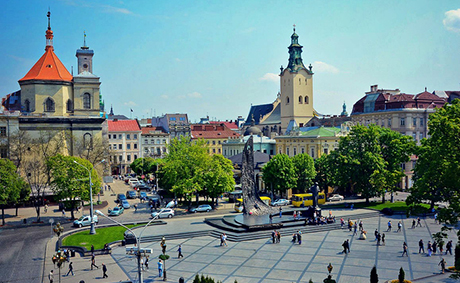 ODESA

The very name of Odesa evokes the city's special atmosphere, created by its location and unique mix of inhabitants. Sooner or later, everyone feels at home here. Nowadays people from more than 130 nationalities reside in Odesa. Since its foundation, Odesa hosted numerous adventurous migrants (from artists to artisans, from merchant to mariners) from Italy, France and other parts of Europe. Follow in their steps for a while! Every family, every yard, and every street can tell you its secret story, whether sad or happy, long or short, but always intriguing.

See more: >ODESA<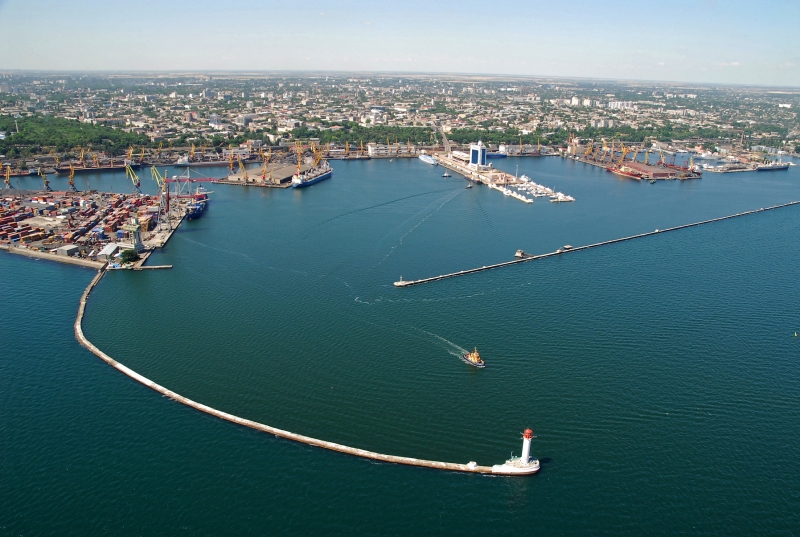 YAREMCHE

The Carpathian Mountains - or 'Green Pearl of Ukraine' - are a stunning range in the west of Ukraine that offer beautiful holidays year round. In winter, many flock to the Carpathians for skiing and snowboarding, while in summer guests can take hikes through Ukraine's picturesque forests and along burbling streams.
Yaremche is the most popular tourist destination of the Carpathians. The town founded more than five hundred years ago and it had seen many historical pages. Yaremche located in the valley of the Prut River at an altitude of 585 m above sea level. The population of Yaremche is 7,850 people.

Kiev is one of the biggest cities in Europe. It is a bustling capital of independent Ukraine, its administrative, economic, scientific, cultural and educational center. This scenic city with population of over 3 million people is located on the shores of the Dnipro River.
Kiev is a city of invaluable historical and cultural monuments, a city of great events and outstanding people. Everyone will find there something especially interesting for himself.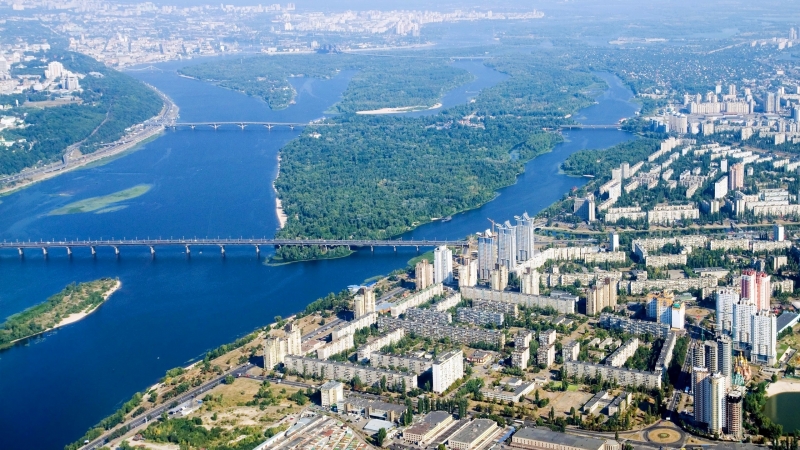 Dnipro river
The art and architecture of Kiev are considered world treasures. Many famous artists, poets and writers estimated the unique beauty of this city. The most renowned landmarks include: Cathedral of St. Sophia with outstanding mosaics and frescoes dating back to the 11th century; Kievo-Percherskaya Lavra featuring several monasteries and cathedrals; Golden Gate of Kiev, which date back to 1037; Ukrainian Baroque Church of St. Andrew; the magnificent 19th-century Cathedral of St. Vladimir; and many other attractions. Kiev is often referred to as "the mother of all cities" by Russians and Ukrainians. It is one of the oldest towns in Europe. In the historical center of Kiev you can feel the spirit of the past everywhere.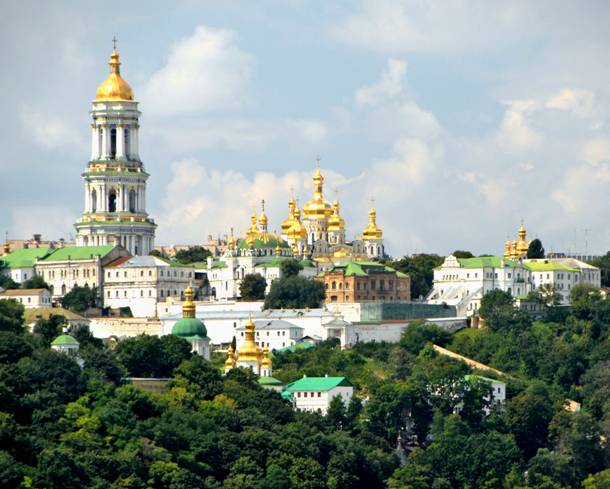 Cathedral of St. Sophia
Kiev is distinguished for its rich cultural life. Theatre lovers will find many theatres offering various theatrical programs. Most performances are held in Ukrainian or Russian. The recently renovated Kiev Opera House presents very good opera as well as a broad repertoire of ballets. Ivan Franko Theatre is a center of Ukrainian drama, comedy, and musicals. A lot of various exhibitions are carried out in the city's numerous museums and art galleries.
Take a walk through the ancient streets of this scenic city, feel its unique beauty and the spirit of its past. For sure your stay in Kiev will become one of your most memorable experiences.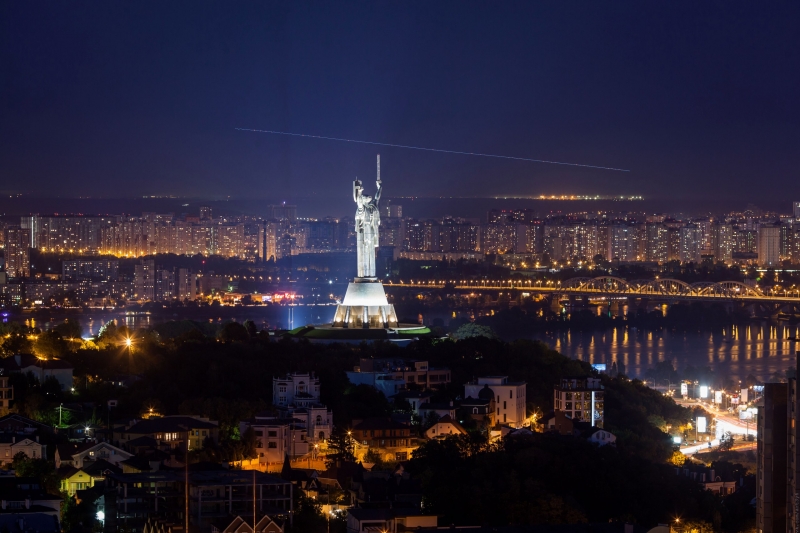 The Motherland Monument
Transportation in Kyiv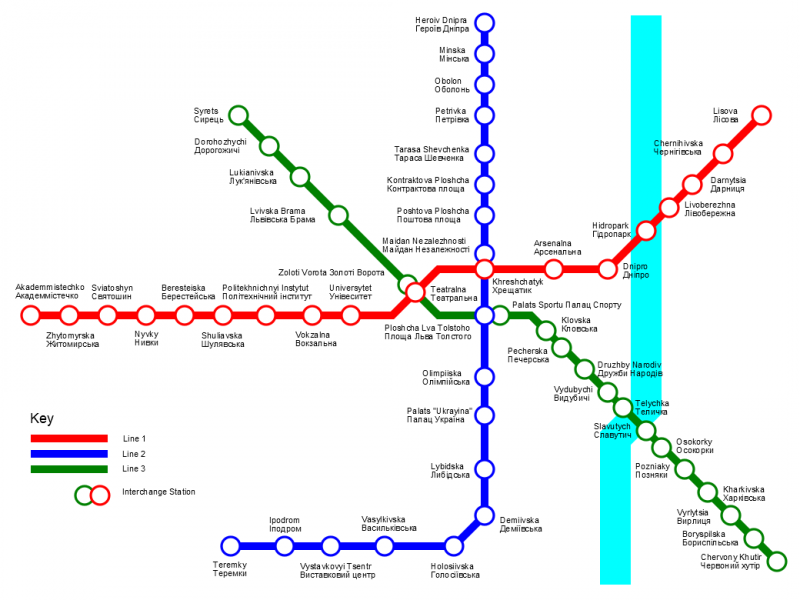 Public transportation in Kyiv includes the metro (underground / subway), buses, marshrutkas (public mini bus), trolleybuses and trams.
Public transportation is quite developed it Kyiv (same about the other cities of Ukraine) and you could easily get from one part of the city to another by just using the city transport.
Kiev (Kyiv) Metro system is without a doubt the fastest, most convenient and affordable way to get around nearly all of the city. Kiev's Subway is expanding to meet an ever increasing number of users - currently estimated at one and half million passengers per day.
Payments: Metro Tokens (in Ukrainian - "Zheton") or Passes (in Ukrainian - "Proyiznyi").
Route search: >KIEV ON 'EASYWAY'<