Students of Faculty of Livestock Raising and Water Bioresourses: training in Slovakia
October 18, 2016
National University of Life and Environmental Sciences of Ukraine, Slovakia University of Agriculture in Nitra and International net AgroBioNet have long good cooperation. So in order to implement International scientific programme «Agrobiodiversity for improving food, health and life quality» senior teacher of Horse Breeding and Beekeeping department Leonora Adamchuk with the assistance of Dean of Faculty of Livestock Raising and Water Bioresources of NUBIP of Ukraine Vadym Kondratiuk and director of Institute of protection of biodiversity and biosafety of Slovakia University of Agriculture Ian Brindza developed a training program «Agrobiodiversity of Bee Plants» for participants of a research club of our university.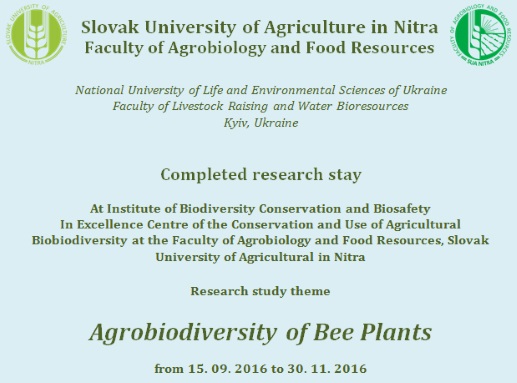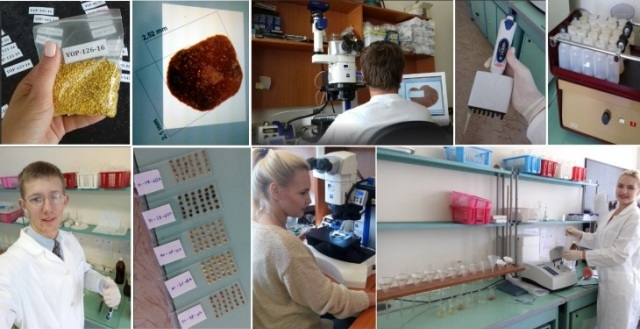 Students of Faculty of Livestock Raising and Water Bioresources such as Anna Novytska, Vadym Samoilenko, Natalia Redina, Oleksandra Akulionok and Oleksii Liul'chak have a possibility to learn about an academic process at Slovakia University of Agriculture, attend the university library, Botanical garden and contemporary centre AgroBioTech.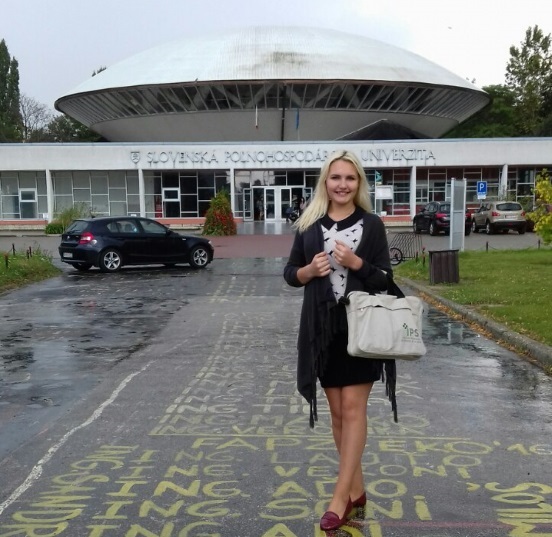 «Agrobiodiversity of Bee Plants» curriculum aims at studying biodiversity of honey and polliniferous plants of Ukraine and bee products. Students learn the principles of sample preparation, techniques of morphometry, macroscopy, microscopy, spectroscopy at modern devices such as ANG 100C (Ахis), Zeiss SteREO Discovery V20, Nicolet 6700 FT-IR Spectrometer, Lovibond SP62 S/N 044929. They also learn how to work with software Ascension Waves Vision to study morphometry of microobjects.
Anna Novytska and Vadym Samoilenko have come back from Slovakia and share their positive impressions with students and faculty staff of NUBIP of Ukraine. Oleksii Liul'chak is now at Institute of Protection of Biodiversity and Biosafety doing some research to identify antioxidant activeness of bee honey of different botanical origin. Oleksandra Akulionok and Natalia Redina will go to Slovakia University of Agriculture to train in November 2016.
M. Povoznikov,
head of Horse Breeding and Beekeeping Department