A student from Ghana James Brown: I want to work on the land and with the land...
April 4, 2015
49 students from 13 different countries study in NULES of Ukraine today. What pushes them to choose exactly our university? How do they study and live here? We talked about this with a first-year student of the agrobiological department, the citizen of Ghana Kwai James Brown.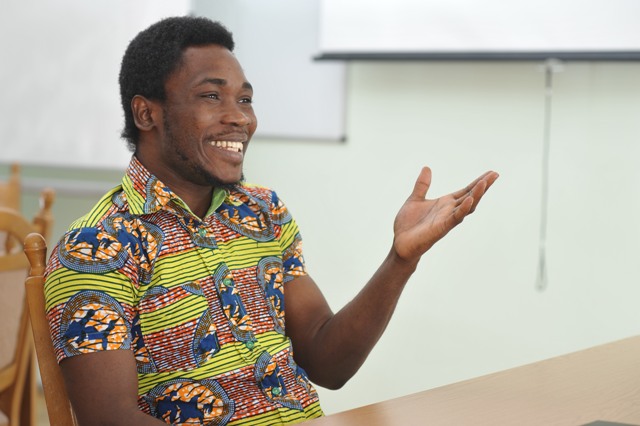 How did you end up in Ukraine and why did you choose the NULES?
- After school I decided to continue and receive a higher education. Alternatively, I considered the possibility to do it outside of my native Ghana. I picked university mainly through the Internet. As I wanted to enter the agronomic specialty, of course, the search was focused on agricultural universities, universities of life sciences. After reviewing hundreds of sites, I focused on NULES of Ukraine.
The first argument, which was important to me - is the status of national university. Secondly, the location of the university is in the capital. And, perhaps, the most important - the university is known outside Ukraine for its training quality of specialist in agricultural industry, for scientific researches, has a strong base for obtaining knowledge, creative self-realization.
I remember, as I reported my relatives about my leaving. Parents even had warnings related to military operations in Ukraine. But I managed to convince them that all that is happening in the east, and I will study in Kyiv.
I've never regretted about my choice. In general, I really like Ukraine. In Kyiv I feel comfortable and safe, I can communicate freely with everybody. Despite the fact that I am almost a year in Ukraine I managed to visit only a few places of historical and cultural capital, much time I spent on education and sports. And the teacher of the chair of Ukrainian language promised me a tour around the city. I'm looking forward to it!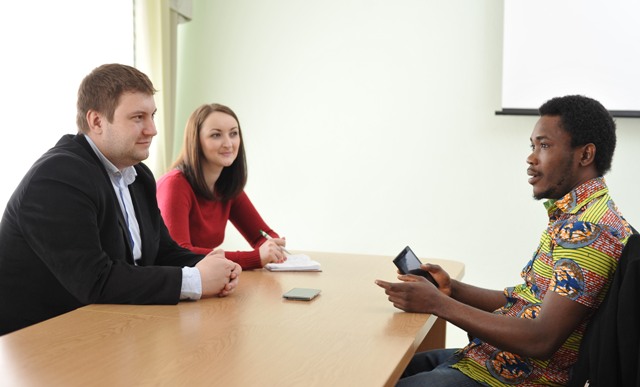 The professions of manager, economist, IT-technologies are popular in Ukraine. What influenced on your choice of profession?
- This trend exists almost everywhere. But I asked myself what can I do for my country? What I would like to do in life? My love for farming and a large demand for agronomists specialists in Ghana pushed me to the choice of a specialty in this field. Of course, my father - a farmer, played the main role. I want to work on the land and with the land...

How is living in a dormitory? Did you find a common ground with classmates?
- I like everything, including living conditions, I communicate with my colleagues well. They help me with everything. So I came with my Ukrainian friend to our meeting.
And what about Ukrainian cuisine? Have you already tasted borshch?
- During the holidays I visited Bila Tserkva. My friend invited me. We cocked borshch and varenyky. It was delicious and I really enjoyed it. In general, many of the world stereotypes about Ukraine are true: about kitchen, and girls, and about good, sympathetic, tolerant people.

How does family refer to the fact that you arrived in Ukraine?
- I communicate with my family rarely. My mom is very busy. But here in Kyiv my friends from Ghana study at other universities. On weekends we walk together, attend church. Of course, I miss family, but I have a new family here - my friends, classmates, teachers.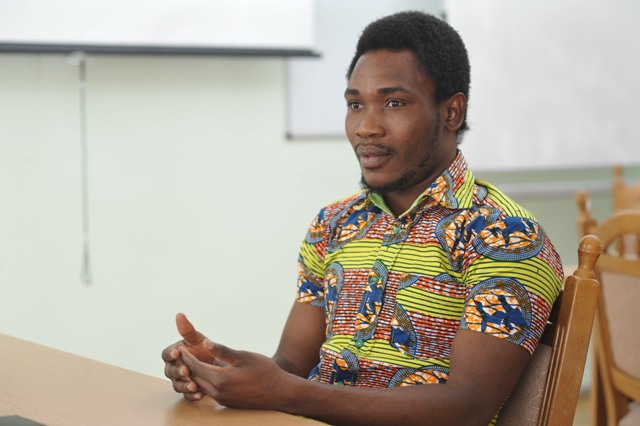 You speak Russian good. How much time passed since the beginning of learning of the language?
- I was studying Russian for eight months in Donetsk. Then I came back home for four months - and a lack of practice made me forget everything. I returned to Ukraine understanding nothing. The first semester appeared to be particularly difficult. Therefore, I had to sweat a little to pass the exams. But now I learn Ukrainian. I know a few phrases.
How do you see your future after graduation?
- It is early to say something specific. Most likely I'll back home. But I do not except the enter to postgraduate studies.
What should your countrymen and citizens of other countries pay attention to when choosing a university?
- To what I said above, I might add, it is necessary to emphasize in foreign languages, especially English, and be not afraid to go to Ukraine. It is really a European country with a good high school. Especially I advise to pay attention to our university for those who plan to obtain higher education in the field of biotechnology, agronomy, veterinary medicine, livestock farming and crop production.
Thank you for the interview.
Interviewers: O. Nakonechna, D. Ruden