International activity and Partners
Department staff are actively cooperating with the modern world companies such as "JohnDeere" - cooperation is the program "Interaction firm" JohnDeere "from universities" towards training for working with modern technology company, adapting it to the natural areas of Ukraine; International Finance Corporation IFC - Providing consultancy services on straw burning capacity for heat needs under the program "Promoting Investment in Resource Efficiency in Europe and Central Asia", as well as working closely with Universities: Orenburg State Agrarian University; Stavropol State Agrarian University - collaboration is on the development and justification of harvesting parameters and on the introduction of precision farming; Swedish University UPPSALLA UNIVERSITET - cooperation in the sciences of nature program "Cooperation of the Baltic-Black Sea"; Hungarian Institute of Agricultural Engineering (HungarianInstituteofAgriculturalEngineering) - cooperation on the ground of parameters of agricultural machines; Lithuanian Agricultural University "Institute of Agrarian Engineering" - cooperation on biofuels; Industrial Institute of Agricultural Machinery (Poland); Czech Research Institute of Agricultural Engineering - Cooperation in the field of development and introduction of biogas plants; State Enterprise "VESKh Rosselkhozakademiya" - in the field of renewable energy sources; Belarus Scientific Institution of RUE "NPU of the National Academy of Sciences of Belarus on Mechanization of Village Agriculture" and others. In the context of cooperation with the above listed institutions organized international conferences which take an active part students of engineering and design of machines and systems of nature.
The faculty collaborates closely with foreign companies: John Deer (USA), ValtraValmet (Finland), Astra, Amako, AGCO Corporation (USA) and several others. This enables teachers and students to get acquainted with modern world technologies and techniques during practical training, conferences and days off. The result of the cooperation is the placement of the best graduates in the representative offices of the company and improvement of the material base of the university.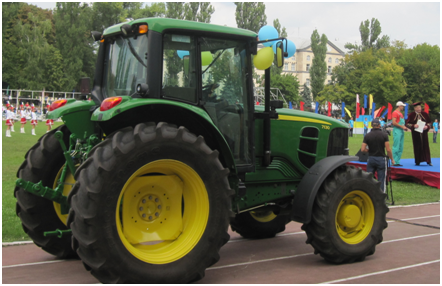 Tractor Modification 7130, donated by the University of John Dir