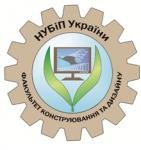 Address: 03041, Kyiv, str. Heroyv Oborony, 12, building number 11.
Tel.: (044) 258-53-97, 527-85-62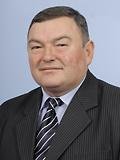 Dean:


Ruzhilo Zinovii V.

Candidate of Technical Sciences, Associate Professor
INTRODUCTION 2020
FACULTY OF CONSTRUCTION AND DESIGN
INVITES TO STUDY
The faculty trains specialists in full-time and part-time forms of education of educational degrees (ED) "Bachelor" and "Master". Training is carried out by state order and contract terms at the expense of individuals and legal entities.
Term of study (years):
ED "Bachelor"
The bachelor's graduate receives a basic higher education and qualification: a bachelor's degree in mechanical engineering and a bachelor's degree in construction.
List of competitive subjects in the certificates of the Ukrainian Center for Educational Quality Assessment for admission
ED "Master"
Specializations: " Machinery and equipment for agricultural production"; "Equipment of the forest complex"; "Technical service of machines and equipment of agro-industrial complex"; "Construction and Civil Engineering".
The graduate-master receives full higher education and qualifications: design engineer; mechanical engineer; civil engineer.
In accordance with the licenses of the Ministry of Education and Science of Ukraine
In order to raise the level of professional training and competitiveness in the labor market, students of the faculty have the opportunity to study and take practical training in domestic and foreign educational institutions, enterprises, firms and companies. These are Dresden Technical University, Iowa and Lincoln State Universities, Warsaw, Vienna and Prague Universities of Life Sciences, Tokyo Agrarian University, Astra Alliance, Amaco Company, world producers of agricultural, construction and transport equipment - Claas and John Deere, Elvorti, etc. Regular meetings between students and employers are held.
Students are annually invited to participate in International and All-Ukrainian Student Olympiads, programs and competitions in which they become winners. Thus Oleksandr Ivchenko became the winner of the All-Ukrainian competition for the most gifted and purposeful students under the Zavtra.UA scholarship program.
Constructor Pavlo Prikhodko is among the best engineering students of Ukraine! He won the All-Ukrainian Student Competition "My Engineering Future" and got the opportunity to visit the most aircraft building plants of Boeing Company in the USA!
The university has created all conditions for comprehensive and harmonious development of students. Students are active participants of creative teams at the department of cultural studies under the guidance of highly qualified teachers - associate professors and professors. Art groups of the University take part in various festivals and contests, make tours both in our country and abroad.
At the Department of Physical Education, students under the guidance of experienced teachers-coaches join classes in many sports.
THE MILITARY TRAINING
Students of the faculty are trained at the Department of Military Training. After completing the cycle of preparation and taking the military oath, they are awarded the officer rank of "junior lieutenant".
Driving school training
Students of the faculty have the opportunity to study at a driving school and get a driver's license of categories "B", "C" and a tractor driver of categories "A1", "A2", "B1", "B2", "B3", "D1".
SO WE INVITE EVERYONE TO OUR LARGE AND FRIENDLY FAMILY OF ENGINEERS AT THE FACULTY OF CONSTRUCTION AND DESIGN!