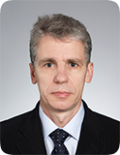 Dean (в.о.):


Valery V. Lementarov
Department of electrification and automation of agriculture dates back to 1946. The faculty trains highly qualified specialists of energy in agricultural production for education levels "Bachelor" and "Specialist". Implemented speed training "specialist" - "Bachelor": The best graduates of the department of the preparation of young specialists of the Institute and other educational institutions of I-II accreditation levels continue learning according to the shorter term program.
Research methodology, modern teaching and laboratory facilities department provides appropriate learning environment for students. In the three-stored laboratory building of the department there are laboratories equipped with modern facilities: the theoretical foundations of electrical engineering , electronics and micro circuitry and instrumentation , process automation , automation and computer-integrated technologies and microprocessor technology , electrical methods of processing agricultural products and materials, installation of power equipment and control systems, electrical materials, devices control and protection.
Practical training of students is carried out by using production practices in the teaching research and production unit of the Institute and in the leading agricultural enterprises of Chernihiv region. Students and teachers have the opportunity of internship abroad. Students are able to study at the military department and get the officer rank of Armed Forces of Ukraine.