Rector Stanislav Nikolayenko signed the agreement on master's double degree diplomas with ISA Lille French Graduate School of Agriculture and Bioengineering
May 3, 2019
Double degree diploma programs prove that the university is recognised among other international educational establishments. Such programs allow students to obtain a diploma not only of NUBiP of Ukraine, but also of a foreign university.
One of the goals of the University's development strategy is internationalization through increasing the number of double diploma programs. As a result of more than one year's negotiations, on May 2, 2019, the agreement on master's double degree diplomas was signed by Rector of NUBiP of Ukraine, Stanislav Nikolayenko, and Head of ISA Lille French Graduate School of Agriculture and Bioengineering, Christophe Fachon.
The master's double degree diplomas program will cover the following fields of study: Agriculture, Food Technology, Environment and Economics, Marketing and Management in Agriculture.
ISA Lille presents a successful combination of theoretical teaching and practical work in an innovative environment. It offers individual curriculums that include inverted classes and panel discussions, case studies, group projects, study tours in France and Europe, internships, programs in collaboration with enterprises, research projects, co-design and joint innovation programs.
ISA Lille trains its graduates to meet the needs of transnational businesses and responding to the realities of international markets. Its graduates have great international communication skills due to the significant amount of international students and internationally trained teachers. Over 95% of the graduates are successfully employed after graduating from ISA Lille.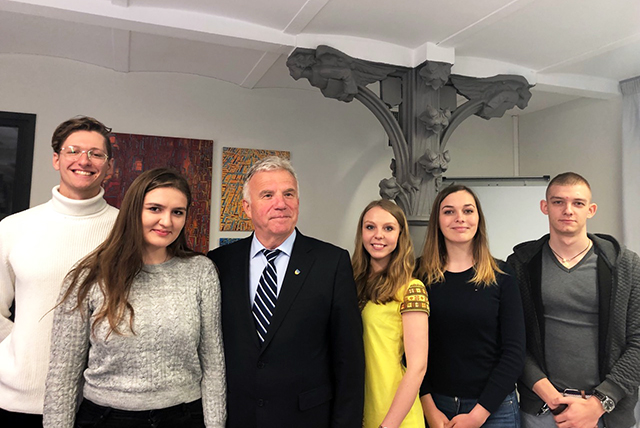 During the working visit, Rector of NUBiP of Ukraine, Stanislav Nikolayenko, and Vice-Rector, Vadym Tkachuk, met with NUBiP students, who are currently studying under the ERASMUS + student exchange program. The students discussed their education at ISA Lille and expressed the wish to participate in the newly signed master's double degree diplomas program.
Olexander Labenko