Head of the Education and Research Institute of Continuing Education and Tourism of NUBiP of Ukraine Olena Kovalyova participated in the 2021 UN Food Systems Pre-Summit
July 30, 2021
The 2021 UN Food Systems Pre-Summit was held in Rome on July 26-28, 2021, with the assistance of the United Nations Food and Agriculture Organization in a hybrid format, with an in-person component complemented by a vast virtual programme.
The Pre-Summit of the UN Food Systems Summit sets the stage for the culminating global event in September by bringing together diverse actors from around the world to leverage the power of food systems to deliver progress on all 17 Sustainable Development Goals (SDGs). Under the leadership of the UN Secretary-General António Guterres, the Pre-Summit is a "People's Summit" that brings together youth, farmers, indigenous peoples, civil society, researchers, private sector, policy leaders and ministers of agriculture, environment, health, nutrition and finance, among other participants (https://www.un.org/en/food-systems-summit/pre-summit).
The Ukrainian delegation consisted of Deputy Minister of the Ministry of Economy of Ukraine, Trade Envoy of Ukraine Taras Kachka, Ambassador Extraordinary and Plenipotentiary of Ukraine to Italy Yaroslav Melnyk, Deputy Minister for Foreign Affairs Dmytro Senik, First Deputy Minister of Agrarian Policy and Food of Ukraine Taras Vysotsky. The delegation worked remotely.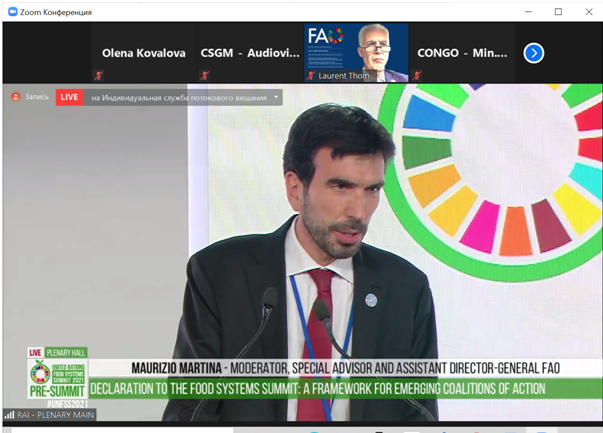 Involving the staff of NUBiP of Ukraine in the policy-making process at the highest level allows the teachers to include the most relevant information in the educational process and share it with the students, especially those majoring in Public Administration.
Olena Kovalyova
Head of the Education and Research Institute of
Continuing Education and Tourism of NUBiP of Ukraine