Address: Ukraine, Kyiv, Heroiv Oborony 11, Str. (building No 10, room 313, 525)
Tel.: (044) 527-85-73
E-mail: [email protected]

Dean:


Ostapchuk Anatolii Dmytrovych

Candidate of economical sciences, associate professor
By decision of the Academic Council of the National Agrarian University and
r
ector
's
order of 1 July 1995, with the assistance of the University of Iowa was established Faculty of Agricultural Management. It was headed by Honored Worker of Science of Ukraine, Corresponding Member of NAAS of Ukraine, Doctor of Economics, Professor V
alerii
Halushko
.
In 1997 in the special
ization
"Management
of organization
" began to prepare students for specialization "Legislation for Agriculture" that in the future the basis for the establishment of the Faculty of Law
of
NU
LESU
. Since 2010, the training of specialists in specialty "Economic Cybernetics" transferred from the Faculty of Agricultural Management at the newly created Department of Computer Science and Economic Cybernetics
In different years the department was headed by: 1995-2001 - Honored Worker of Science of Ukraine, Corresponding Member of NAAS of Ukraine, Prof.
Valerii
Halushko; 2001-2003. - Ph.D., Assoc. S
erhii
Mikhailov, 2003-2010. - Ph.D., Assoc. O
lena
Kovtun, 2011 - Prof. A
natolii
D
i
brо
va, 2011-2013. - Prof. I
hor
Okhrimenko, 2013-2014 - Prof. S
vitlana
Rogach.
1995-2001

V. Halushko

2001-2003

S. Mykhailov

2003-2010

O. Kovtun

2011

A.Dibrova

2011-2013

I.Okhrimenko

2013-2014

S.Rogach
Faculty annually produces more than 400 professionals, including: entrepreneurs, bankers, vice-president of international companies, heads of associations, agencies, top managers, politicians, businessmen, analysts, managers of various business partnerships and more. Currently studying at the faculty of 876 full-time students and 389 - correspondence. The Faculty has close scientific ties with the Ministry of Agrarian Policy and Food of Ukraine, National Academy of Agrarian Sciences of Ukraine, NSC "Institute of Agrarian Economics NAAS of Ukraine and other scientific and educational institutions, leading enterprises of the agricultural sector of Ukraine.
In May 2015 at the Faculty Council created by employers, which aims to provide high quality professional training based on comprehensive cooperation with interested companies and organizations. The structure included graduates who hold leading positions in manufacturing, business and politics.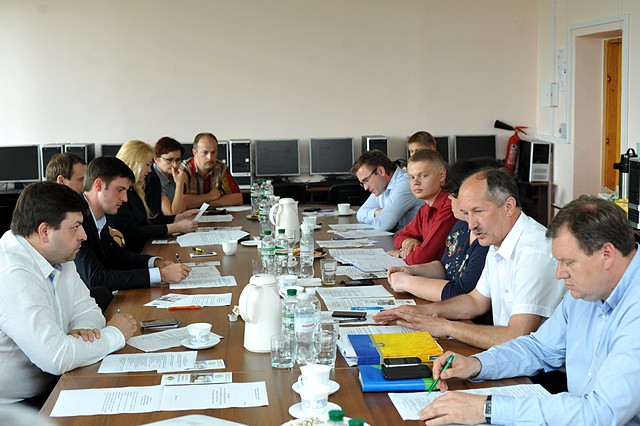 Notice
September 19, 2019
Department of Administrative Management and Foreign Economic Activity
October 4, 2017
Department of Production and Investment Management