Адреса: 03041, Kyiv, Heroyiv Oborony st, 11, building number 10, room 514
Тел.: (044) 527-81-01, 527-85-75.
Електронна пошта: [email protected]
Head of the Department::


Svitana M. Rohach

Doctor of Economic Sciences, professor
The Department was founded in 1954 as the Department of Agricultural Economics, later as the Department of Economics of Agricultural Sector, and since 2008 – the Department of Economics of the Enterprises named after Professor I.N. Romanenko.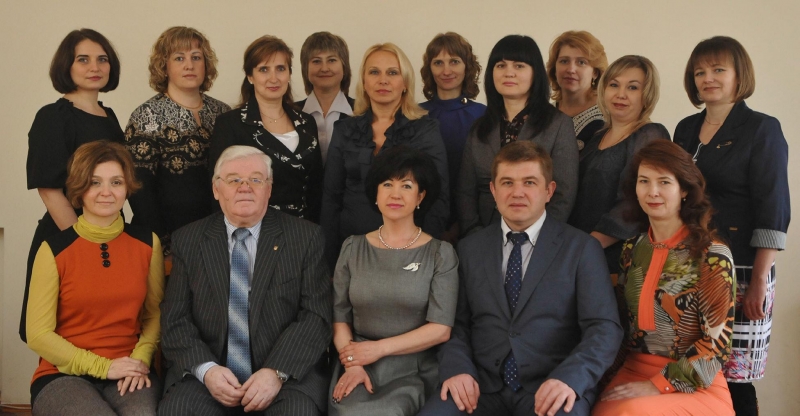 Academic staff of the Department of Economics of the Enterprises named after Professor I.N. Romanenko, 2016
The 1st row (left to right): Laboratory Assistant Dolynska-Belimenko Zh. A., Professor Zbarskyi V. K., Professor. Rogach S. M, Associate Professors Yanchevskyi R. V.,Cherednichenko O. O.
The 2nd row: Senior Laboratory Assistant Chekanska L. A. , Associate Professors Sulima N. M.,
Tomashevska O. A., Herasymchuk N. A., Stepaniuk L. M., Ilkiv L. A., Mirzoeva T. V., Hutsul T. A., Velychko O. V.,Avramenko T. P.
The first Head of the Department was a member of the Lenin All-Union Academy of Agricultural Sciences, Doctor of Economics, Professor Romanenko I. N. (1954-1975). At present, the Head of the Department is Rohach S. M., Doctor of Economic Sciences, Professor (since 2015). Main task of the Department is to train highly qualified specialists in the field of economy to meet the needs of sustainable development of Ukrainian society and create an advantageous educational environment aimed at training professionals and creative individuals who have fundamental theoretical knowledge with practical experience.
The Department trains "Bachelors" and "Masters" in specialty "Economics". The Department developed and implemented Master's program "Economy of
Agricultural Sector".
The goals of the Department are:
– to form the new generation of Ukrainian economists, who can create and implement an enterprise development strategy on the basis of efficiency andcompetitiveness in the context of global economic challenges;
– to provide fundamental and applied investigations aimed at deeper theoretical and methodological principles, prove practical recommendations concerning the efficiency of economic entities; improve the quality of educational process by implementing innovative methods and mode of study.
From 2012 to 2017 the Department has been carrying out scientific research on the subject "The competitiveness of organizational and legal forms of agricultural business under the condition of globalization". Scientific studies are administered on the problems of functioning efficiency of organizational and legal management forms; forming organizational and economical mechanism of competitive production; environmental and economic efficiency of reproduction of natural and resource potential in agriculture.