Prof. Stanislav Nikolaenko was appointed the acting rector of the National University of Life and Environmental Sciences of Ukraine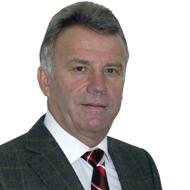 June 6, 2014
On June, 2 2014 the Ministry of Education and Science of Ukraine appointed Prof. Stanislav Nikolaenko the acting rector of the National University of Life and Environmental Sciences of Ukraine.

Prof. Nikolaenko was born in 1956 in Kirovograd region, Ukrainian SSR. He graduated from the Agricultural Academy of the Ukrainian SSR becoming a mechanical engineer (1978) and engineer-educator (1980). In 1991 he received a degree from the Odessa Institute of Political Science and Sociology. In 2008 Prof. Nikolaenko obtained a Doctorate Degree in Teacher Education.

Stanislav Nikolaenko began his career as a teacher at the Kirovograd Agricultural College. After receiving teacher education he was teaching mechanization of livestock at the Kakhovka College. Later he served as the principal of the Krasnoperekopsky vocational school. In 1991-1994 years he worked as the Deputy Head of Kherson Regional Department of Education and Associate Professor of Agricultural Mechanization at the Kherson Agricultural Institute.
Prof. Nikolaenko was a MP of several convocations, Chairman of the Verkhovna Rada's Committee for Science and Education; in 2005-2007 — Minister of Education and Science of Ukraine, Chairman of the Council of educators and scientists of Ukraine (GRONU). Stanislav Nikolaenko developed and authored several laws, including the introduction of a single flat tax on agriculture, land reclamation, conservation, development of vocational training, and higher education. He always advocates for social protection of teachers, scholars, and students.
Since 2009 he has been working as Professor at Higher Education and Law Department of the University of Education Management under the National Academy of Pedagogical Sciences of Ukraine.