Address: 03041, Kyiv, str. Polkovnika Potehina, 14, building 12 (block A), Rooms. 217, 404, 407, 415, 416.
Tel.: (044) 527-89-26, (044) 527-86-46
E-mail: [email protected]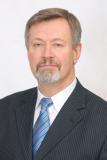 Head of Department:


Gudkov Igor M.

Doctor of biological sciences, professor, academician of the National Academy of Agrarian Sciences of Ukraine, Honored Scientist of Ukraine
Department of Radiobiology and Radiology was founded in 1987.
The founder of the department and its Head is doctor of biological sciences, professor, academician of NAAS of Ukraine, Honoured Scientist of Ukraine Igor M. Gudkov.
The impetus for the department creating was the situation in the Ukrainian agriculture after the Chernobyl accident in 1986. It was clear that agrosphere was affected by accident in the largest extent, and radionuclide contaminated plant and animal products will be the main source of population exposure. Therefore, the first in Ukraine narrow focus radiobiological Department was created in the Ukraine Agricultural Academy (now – NUBiP of Ukraine).