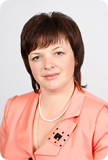 Dean (в.о.):


Nataliya H. Zharuk
The youngest educational tradition at Nizhyn Agrotechnical Institute is associated with the Faculty of Economics and Management. Economic training of specialists in agriculture was established at the institute in 1996.
Teaching process at the faculty is carried out by the scientific and pedagogical staff of qualified professionals who are working actively at introduction new technologies and technical means in the process of learning. Subjects are brought into the powerful distance-learning platform Moodle, which allows students to acquire training material remotely and pass the test control of knowledge.
Close links of the department's graduating chairs with leading companies in the region provide modern practical training of the future specialists.
The faculty devotes considerable attention to the comprehensive development of students: holding scientific-practical conferences, workshops, sports and cultural events are traditional.
The aim of international activities at the facultyis to develop cooperation with higher education institutions in the EU and the CIS.